As I sat down at the kitchen table and we started the interview, I learned quickly that I was sitting in front of two fine, Southern gentlemen. They were so in tuned with each other that it was like having a conversation with one person. They never interrupted each other, but they could finish each other's sentences. It was like magic and I couldn't stop smiling at them.
They were born on August 1, 1934, in Hamilton County, Tennessee. Their given names are J.B. & L.B. McGowan. They assured me that was their names and it didn't stand for anything else. I asked if their Mom was surprised at having twins and they laughed and said, "Momma, tied a string on one of our wrists, so she could keep up with who was who." They came to Lynchburg, when they were 2 months old. They were raised in the little brick house at the end of Elm Street, next door to Berry Chapel Church.
The twins' Uncle, Clinton Daniel, also known as "Possum", helped raise them. He was a blacksmith near Mulberry Creek, located where Barrel House BBQ is now. The twins said he taught them hard work and responsibility. "He taught us life lessons and how to fail and how to succeed. He was a very smart and a good businessman." "We got a good whipping with a switch, one time for not doing as we were told." J.B. said he was the one that didn't do what he was told, but L.B. got a whipping too, for good measure. Our cousin was standing and watching and didn't get out of the way quick enough, so he got a whipping too. "Uncle Possum was a good man, and everyone trusted him and he helped everybody. He never said no to anybody. He helped us to be who we are today. We had to work hard to get what we had, but we always had enough for bread and a pair of shoes and a pair of britches. Tom Motlow would give us a quarter sometimes and we would share a Double Cola. One of us would measure the length of our finger, on the side of the bottle, drink it down, and then let the other one drink." "Our people were Church people. We went to Berry Chapel every Sunday. We would always go down there early and play before church."
The twins remembered hauling water up the hill, from the first house on Elm Street. "We had no electricity but a neighbor had a battery radio, and we would go to their house and listen to the Grand Ole Opry on Saturday nights." "There was a well house on the Square in front of where the Hardware store is now. People would come in from the country and would congregate there and visit on Saturday night. On election night, the Square was full of people."
J.B. & L.B. attended Highview school starting with Primary or Kindergarten and completed the 8th grade. They said, "We were all in one room and our teacher was Mrs. Wilhote, and she taught us for all eight grades. They said, "The older children cared for and helped with the younger ones. They had to help, or she never could have done it. We had special programs for holidays and the country folks would come to town. We liked to play ball in the field across the way, which is now the Elementary school playground. The girls played ball too, they were pretty good at it." The twins shared the memories of playing ball with Johnny Majors, Bill Dance, Henry and Tommy Price, Kenny Harrison and "Chicken" Cunningham. J.B. said, with a smile, that he once heard Johnny Majors say, "He wanted to play ball like J & L." They said, ball teams would come from other counties to play our Lynchburg team. We had some good games and we were good. We even had Nashville teams come down here, a time or two." "We called ourselves the Jack Daniel Team." The whole town would come to watch."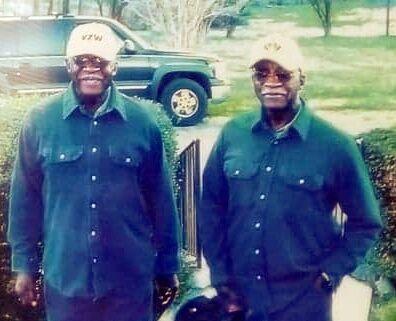 "We graduated from High View with our cousin, Frances Eady. We were the only ones in that class." After they graduated from High View in 1949, they were bused to West End High School in Fayetteville. They graduated in 1954. After graduation they farmed and worked where ever they could. They were drafted into the Army 1958.
The Twins were stationed at Fort Campbell and they were allowed to stay in the same barracks and were trained to be combat ready. J.B. received orders to go overseas and L.B. did not. They were very upset and they wanted to stay together. With the help of the Chaplain and some fancy paper work, they shipped out together to Germany. They were allowed to stay together at Hanau, Germany for their entire enlistment. "We were in the same unit and in the same room our whole time in the Army." They never had to deploy.
Their Army experience was the longest and farthest they ever were away from Moore County.
After their enlistment, they came back to Lynchburg and farmed and found work where ever they could. They hired on together at Genesco, and worked there for 4 years. They then hired on at Jack Daniel. They worked in warehousing but did anything that needed to be done. They worked the same schedules and shifts the entire time they were at Jack Daniel. They retired in 1999.
J.B. and Nellie have been married for 65 years and they have 6 children. L.B. and Barbara have been married for 63 years and have 3 children. They are all neighbors and live two doors down from their old home place.
I was curious about their life as twins. I asked if they ever tried to fool folks over who was who? They assured me they never tried that, "even with the girls." "We worked with Mac Cashion for years and he could always tell us apart, even from the back." I asked if they had a code about what they were going to wear every day? "We just kind of know what each other is going to wear." They meet every day and pick up their lunch at the Senior Center, then on to the Post Office and back home. "We see or talk to each other every day."
I asked the Twins for their words of wisdom, for the young people of today. L.B. said, "Behave yourself, watch who you run with and stay out of trouble. Have some God in your life."
J.B. said, "Use common sense and be respectful. Make time for your family. Love one another and stay together. Get off the computer and set a good example for young people."
My visit was over and as I left, I recalled in our conversation that J.B. & L.B. said they had been called several things in their life. Ever since we came to Lynchburg in 1975, I have known them as the Twins or the McGowan brothers. They said that the kids on the playground sometimes called them The "B" boys or just L. and J. As I came back to Hope Street, I was glad I got to know them better, and very proud, to not only call them the Twins, but also to call them my friends.